The best audio, video converter and video downloader
Internet is full of websites that provides tools and software's to convert audios and videos, however at the same time certain things are for sure that these websites are full of pop-ups, malware, and other spamming affiliation. This mean that whatever information stored in as cookies in your computer or mobile phone is dangerous. You are simply exposing yourself to hacker by this means. (I browsed few illegal audio and video converter and downloading websites for research).
And I unfortunately came across ONLY one website that I can recommend my users.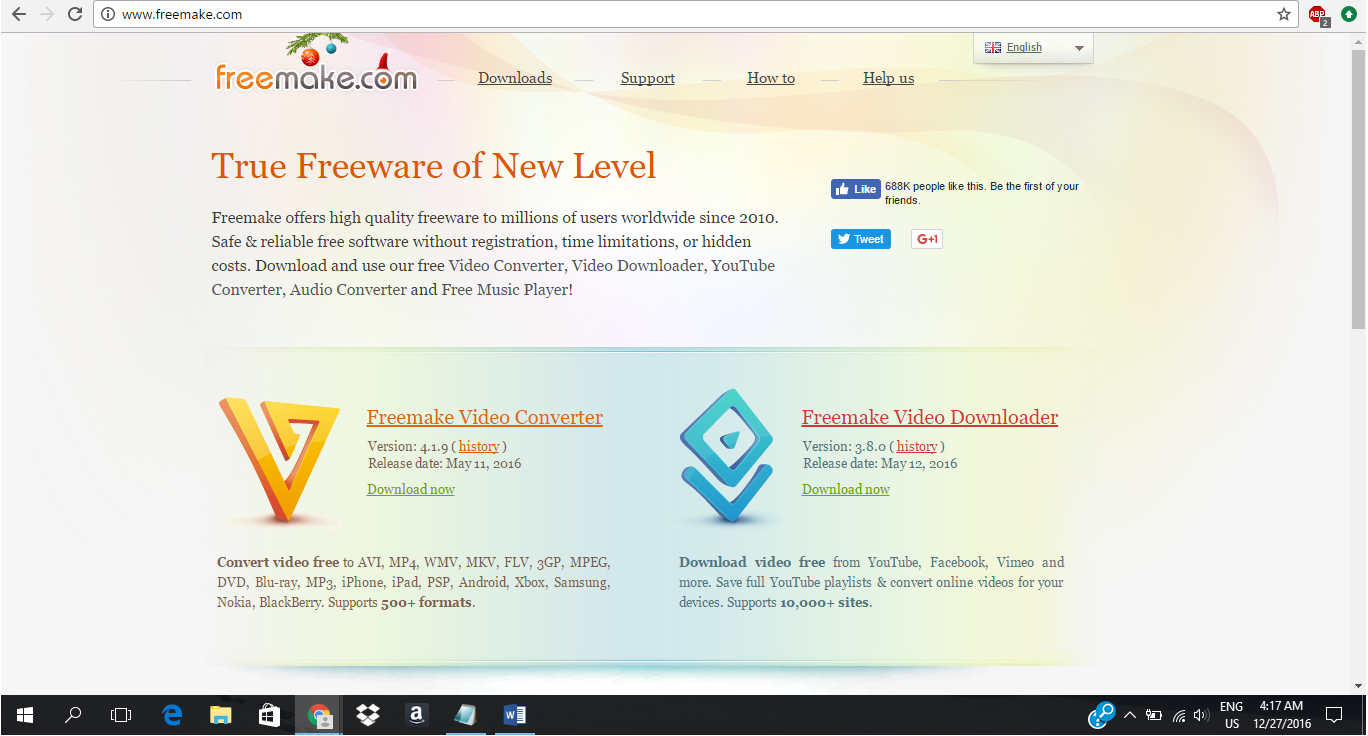 Freemake is a software brand by Ellora Assets Corporation. And they have the following tools.
---
Freemake Audio Converter
The program is used to convert across different audio formats, merge audio files, and extract audio from video files. Freemake Audio Converter 1.0.0 does not support CD burning
Freemake Audio Converter accepts over 40 audio file formats such as MP3, WMA etc and can convert audio to MP3, WMA, etc. It also allows its user to convert audio files into M4A and M4R files for iPad, iPhone,
---
Freemake Music Box
It is a freeware program designed to stream free music to users without the need to create an account or set up a subscription. Users can input a query in the search box and the application displayes search results which are divided into songs, albums, and artists.
All displayed music tracks are played in sequence with built-in audio player. There are options to loop, pause, stop, and fast forward tracks in the player. The program has the ability to play the music video related to the current song.
It also allows to import local playlists from other media players like Winamp, Windows Media Player, AIMP, VLC media player, etc
---
Freemake Video Converter
1. User can chose from Multi-languages
2. It is completely compatible with Windows XP
3. Many different types of formats are supported
4. Format profiles can be tweaked
5. You can easily convert your videos for your mobile phone
6. You are also allowed to convert some parts of the videos.
7. You can choose to only extract the sound of your video into MP3, WMA, MP2, AAc
---
Freemake Video Downloader
The program is designed to download embedded videos in FLV, MP4, etc, or from one of these popular website, which includes sites YouTube, Facebook, Vevo, Dailymotion, Vimeo, Veoh and Metacafe. The software gives a list of all video qualities available for downloading.